Release One will be the Core Accounting Engine with the intention being that future regular releases will introduce new features, financial modelling, and enhancements to already existing features.
In this blog we wanted to start showing you a couple of features we have been working on so you can begin to get a feel for the simplicity and layout we are incorporating.
One of the key user interface rules we wanted to follow was to keep things simple. Accountants and Book Keepers know what needs to be done therefore Oval Accounting will provide a solution that is simple to use and intuitive.  Bearing this in mind, we decided to keep the Administration element separate to the Core Application. The reason for this is the people doing the day to day accounting are not necessarily the ones doing the initial setup and configuration within Salesforce. That's not to say they can't have access to the Administration Application as well, but by keeping it separate, the Core Application looks less cluttered and concentrates on the Accounts.  
When you install Oval Accounting in the App Exchange, you will see: 


When the Oval Administration Application is launched, you will first land on the Home Page. The screenshot below gives you an indication of what this will look like (please note that test data is being displayed):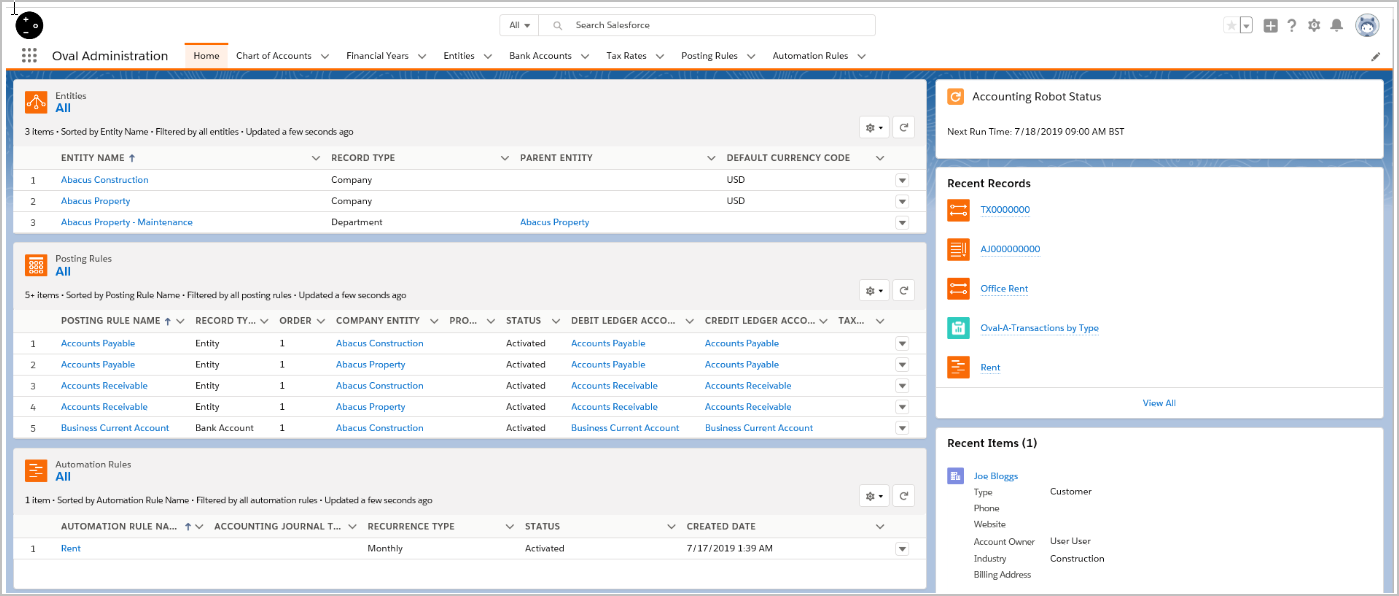 You can see that we have the following feature tabs: 
Home Page >Chart of Accounts >Financial Years >Entities >Bank Accounts >Tax Rates >Posting Rules >Automation Rules  
Over the coming weeks further blogs will be added that will go into these features individually with more detail. For now, we shall take a look at the Oval Accounting Application. The features consist of the following at a high level: 
Home Page >Transactions >Transaction Templates >Accounting Journals >Accounting Journal Templates >Entities >Bank Accounts>Bank Reconciliation >Reports >Dashboards  
You can setup Templates that can then be used when creating transactions and when setting up an automated process. What we have also done is incorporated the Kanban view so you get a status bar that you can manage the status of the transaction or journal:  
Accounting Journals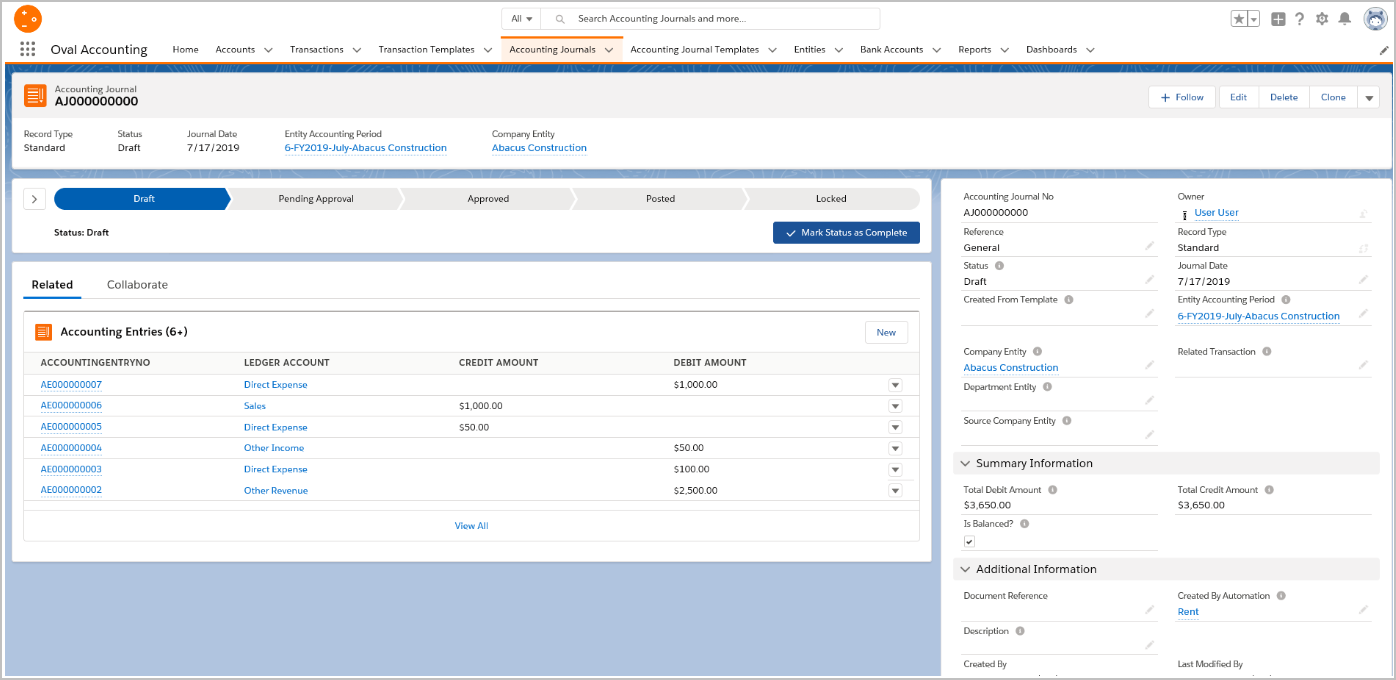 The right-hand panel displays the summary information, whereas the entries themselves are listed in the wider left-hand panel, above which you can see the status bar.  
Transactions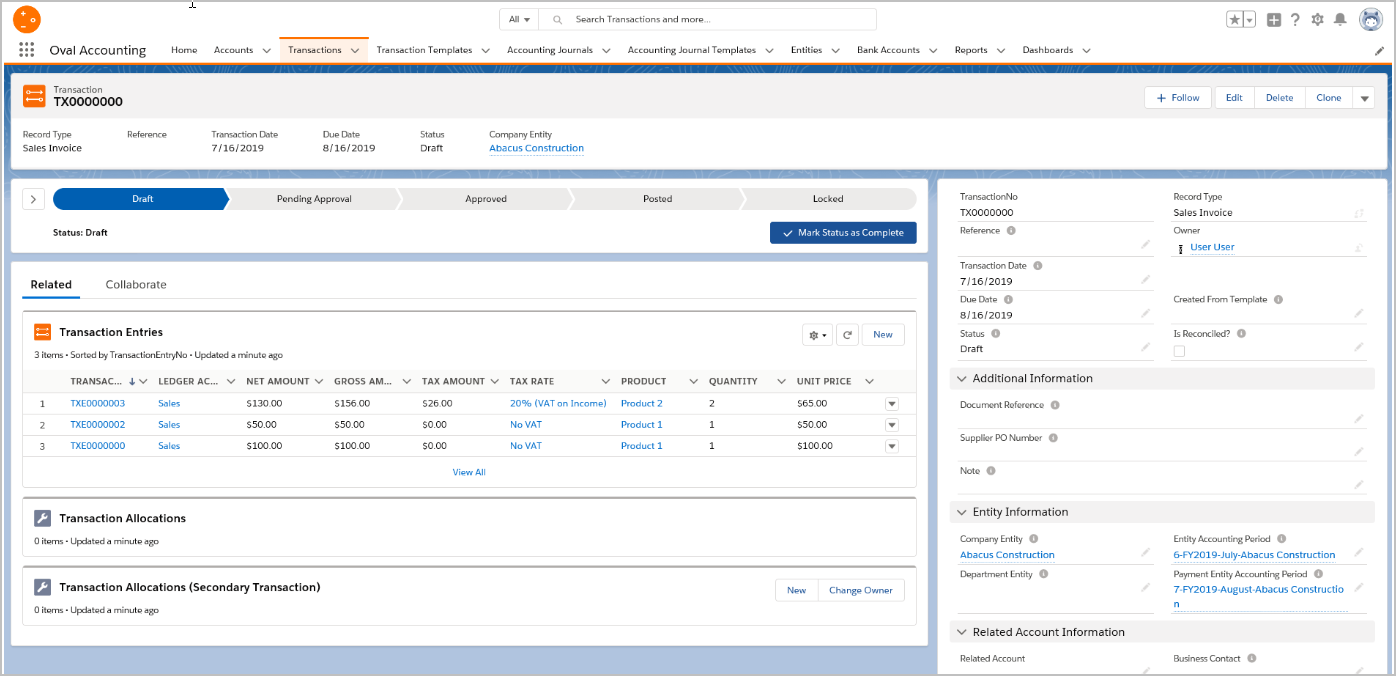 This blog is the first of many that will introduce you to the core functionality, key dates and Salesforce features we are incorporating within the app itself. 
In the meantime, if you like to find out more or become one of our Beta Users, please contact us at hello@ovalaccounting.com.